JAPANESE MINI TRUCKS
Japanese Mini Trucks also known as, Kei Trucks (Kei meaning tiny, small or mini) have been made in Japan for over fifty years. In Japan, these vehicles are mainly used for family farms. They are also used daily for personal and business purposes on their roads. These versatile little vehicles are widely utilized throughout Asia, in agriculture, fisheries, construction and even for firefighting.
Japanese mini trucks are being imported into the US for On & off-road usage. More than half these trucks are purchased by farmers and hunters, however they are not limited to just these categories. Mini trucks are also being widely used as school campus maintenance vehicles, on golf courses, in and around factories, in camps and camp grounds, as maintenance vehicles for large property developments and as an ATV/UTV alternative for the outdoors man, hunter, rancher, farmer and fisherman. Mini trucks are unparalleled when compared to all other off road vehicles.



Due to Japanese laws that regulate the surplus of the older minis, importers bring more used Kei trucks into the US than new. They are shipped from Japan by sea, in containers for sale at prices ranging from US $6,000 to $16,000.


The Japanese mini truck is a tiny but practical pickup available in 2WD and/or 4WD versions, with high/low transmissions, and electronic differential lock options, also. They all have fully a enclosed cab, windows, seat belts, windshield wipers, AM radio, cigarette lighter, heater/air vents, lights, signals, and get up to 50 mpg. Some are equipped with A/C too.

They generally have 6 ft. long beds with fold-down/removable sides (dump and scissor lift beds are an option). The truck length limitation of just around 10' 6", makes all of these models into a cab forward design with the engine under the seats and bed.
We are currently selling All Makes & Models of Mini Trucks. Our Goal is to purchase vehicles with a very low number of miles. All trucks have heat and only some have air conditioning, which is a highly sought after option. Air conditioning is a rare however, imagine being in your air conditioned mini truck in the heat of summer while your friends are swatting mosquitoes in their John Deere Gator. The windows roll down, the bed sides and tailgate fold down to give you a platform to stack on, while still getting full use of the six foot bed.
These trucks typically go for a long time, it really depends on how well you care for them. They are shipped here straight from Japan and are not someone's beat up unit, most are in great shape but please do pay attention to the grading system as that will give you an idea of the exterior and interior condition.
Exterior condition is rated 5 through 1 with 5 being Like New
Interior condition is rated A through D with A being Like New
Most trucks will get upwards of 55 mpg, will run up to 60 mph. They all have 4 wheel drive with a high-low range selector. You'll love all the power packed into these great trucks! All Makes trucks have a three cylinder gas engine. With the exception of Subaru which is 4 cylinder.

For those who don't know, Daihatsu is the truck division of Toyota & Mazda's trucks are all made by Suzuki. They all average between 40 - 47 horsepower, which is directly applied to the wheels.

These trucks will climb the most steep hill imaginable even while loaded down with firewood or sacks of feed without breaking the slightest traction because of the 4×4, differential lock (optional) and Low range gear selector all working together. Put it in high gear and you'll be ready for the road.
These units will put to shame the best UTV & ATV's on the market. Compare the payload capacity, the axles, transmission, top speed, frame construction, hydraulic brakes, turn signals, and windshield wipers with washer, granny low gears 1 through 5 with Reverse and High range gears 1 through 5, to a Kubota, Mule or any other UTV and the mini truck will run circles around them in every single aspect. The axles, transmission, frame, suspension and everything else is designed for day after day use on or off road.
Diff Lock & Axle Lock Explained
The diff lock acts on the rear differential and makes both left and right rear axles turn together even if one wheel is not in contact with the ground and cannot find traction.
The axle lock button locks the front wheels to the front axle. It's basically a free-wheeling hub system that you lock and unlock using the axle lock button in the cab, rather than having to get out of the vehicle to turn the front hub locks manually.
So, if you put the truck in 4WD but do not select axle lock to lock the front hubs, you will still have only 2WD.
MINI Truck Spec's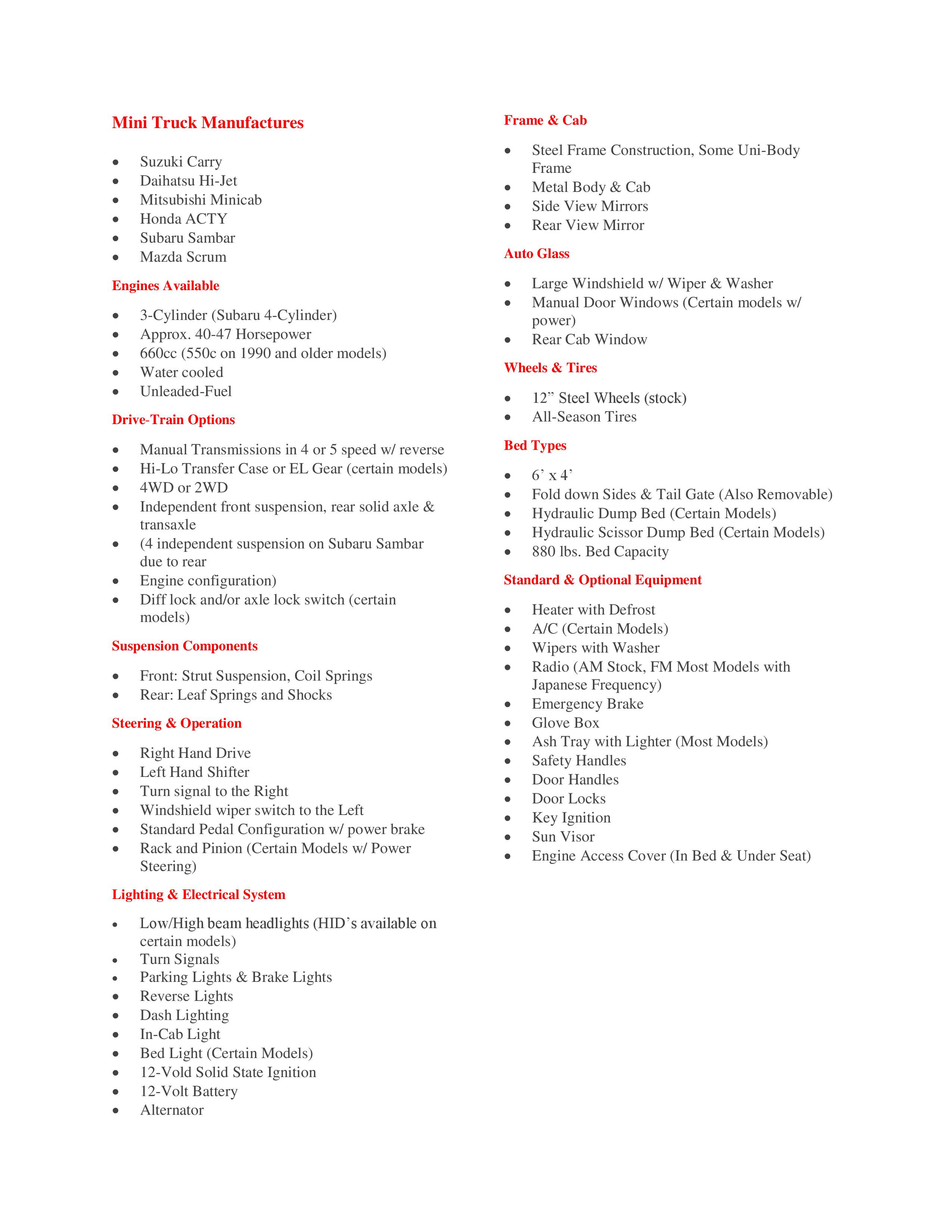 All Required paperwork is provided for out of state buyers to legally register Mini Trucks for Road Use.
If you are a Washington Buyer we deal with doing all paperwork for you along with collecting 8.7% Sales Tax.

All Mini Trucks less then 25 years old are strictly for Off-Road USE ONLY.

Please check your local laws to determine if anything you're purchasing is not allowed on public roads in your City/State.

CALIFORNIA
If you are in California and you want a legal to drive, over 25 year old vehicle, you know it's not as simple as the rest of the country. We have navigated this obstacle , and can offer cars, fully legal for California.
Prices for California modification and testing range from $5000 - $10000 depending on vehicle model and condition up to 1995. 1996 and up require OBD II, which adds significantly to the cost and complexity. Please call or email us with specific cost questions. 360-990-7770
1967 model year vehicles and older - no modifications and testing are required to register the vehicle in California.
1968 model year to 1974 model year vehicles - California does not recommend the purchase or importation of these years of NON-USA vehicles, even if currently registered in another state. These vehicles require compliance with USEPA requirements in effect on the specific date of 11/15/1972. This provision when written, was considered by the California legislature as a gradual phase-out of very dirty "non-collectable" types of imports, as this specific requirement was understood to become
increasingly difficult to meet. Today, this requirement, while not impossible to meet, would require testing expenses and modifications that far exceed most vehicles value and would make little sense from a collectors standpoint to attempt. Some limited exemptions apply to individuals moving to California with vehicles of these years registered in their home state for at least a year before moving to California. Contact us for more information.
1975 model year vehicles to the present - (EXCLUDING any vehicle obtained by a California resident within two years of its date of production) require a "Certificate of Conformance" issued by the ARB after a successful laboratory test. This test is administered to the same standards required of new vehicle manufacturers, and for the model year of the vehicle . However, unlike new vehicle manufacturers, as an individual you are not required to meet the full range of additional testing and equipment standards such as On-Board Diagnostic (OBD) requirements, durability testing, low emission fleet averaging, or Zero Emissions Vehicle testing (LEV and ZEV requirements). So while these standards reference what a manufacturer must do, when required by the Direct Import requirements they apply to individuals importing a used motor vehicle. Some limited exemptions apply to individuals moving to California with vehicles of these years registered in their home state for at least a year before moving to California. Contact us for more information.
Motorcycles and heavy-duty engines - (used in trucks and buses) are required to comply with CA or USEPA from the date of manufacturer, no after-the-fact modification is permitted for products first sold outside the US market.
Diesel vehicles - 1979 model year and older vehicles with original-equipment diesel engines are exempt from Direct Import lab testing requirements. Please note that any vehicle converted to operate on diesel fuel is subject to lab testing requirements if it is a 1968 model year vehicle or newer.