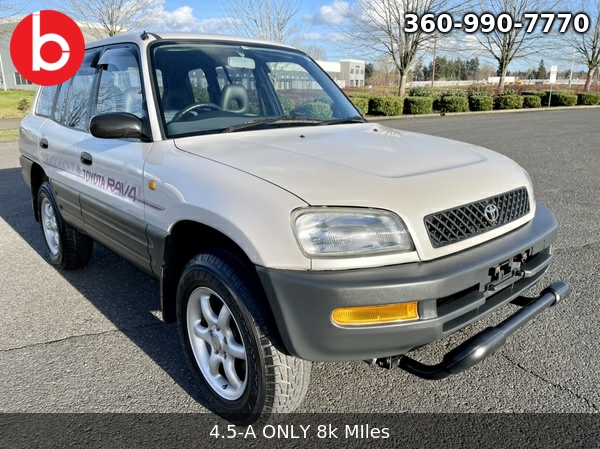 1995 Toyota RAV4-L FullTime 4WD, AC/Heat, PS-PW, Auto, Like NEW
Mileage: 8,820
Engine: 3SFE Inline 4
Transmission: Automatic
Interior color: Grey/Blue
Exterior color: Pearl White
Fuel type: Gasoline
VIN: SXA11-**54039
Doors: 5 Door
Stock number: 315-2
This 1995 Toyota RAV4 is a more playful and fun take on a recreational activity vehicle than its larger siblings the Hilux and Land Cruisers. Boasting better efficiency, smaller dimensions, and plenty of useful space for five, this little Ute can do some big things! Offered with a mere 8k verified miles, the body is in great shape, some scratches associated with normal use. The Pearl White paint is complemented by the period-correct graphics, OEM rain guards, and a rugged brush guard. Best of all, this 4WD Toyota is easy to find parts for and can be relied on year-round backed by Toyota's reputation for quality.
The interior is impressively built and nicely equipped. The tall ride height and skinny A-pillar promote a clear, commanding view of the road ahead. The dash is in good shape and lacks any major damage. The driver receives a tilt wheel, and power switchgear controlling the locks, windows, and mirror work as they should. The climate system features heat and A/C, but privacy tint does a good job reducing interior temps by itself. Further aiding ventilation is a power-retractable sunroof and OEM rain guards. The black and blue upholstery is in like new condition, lacking any major rips stains, or tears. The rear seats can fold forward for larger cargo capacity, and they also can recline for more rear-seat comfort. The carpets have been protected by factory plush carpet floor liners, and they are included in the sale for the next owner to keep their vehicle protected. The headliner is in new condition, and it's obvious this RAV was loved overseas by its last caretakers.
The simple mechanicals, and unibody construction, give this RAV4 a more civil ride quality than its truck-based siblings. Powering this crossover is a Toyotas 2.0L 3S-FE four-cylinder. This gasoline power plant benefits from a fresh oil and filter service and a new engine air filter ensures that she delivers maximum fuel economy. While not a small job, the old leaky oil pan gasket has been replaced with a new one, keeping your driveway clean! With a twist of the key, the four-banger churns to life. Mated to a smooth-shifting automatic transmission, a full-time four-wheel-drive system that can be helpful when the weather turns on you. The suspension provides plenty of ground clearance and feels predictable as ever. The brakes are confident and the steering is light yet connected nonetheless..
This perfect sized crossover does it all. It provides a carefree ownership experience and delivers premium Toyota drivability, in one all-weather 5-door package!
** Fresh Oil Change
** Alternator is only outputting 13.5v (Recommend Replacing)
** Battery is 10 years old (Recommend Replacing)
** Wiper Blades look old (Recommend Replacing)
** Tires have lots of thread left but are 14 years old (Recommend Replacing)
UNDERSTANDING OF GRADING SYSTEM
Exterior Detail


4.5 The car is a very high grade that you can be confident in. The car may have some very slight imperfections in the body work, but will not need major repair. Grade 4.5 and 4.0 are the top grades you could expect for a used car, and as such attract the top prices in the top 10%.


Interior Detail

A - New or near new condition.