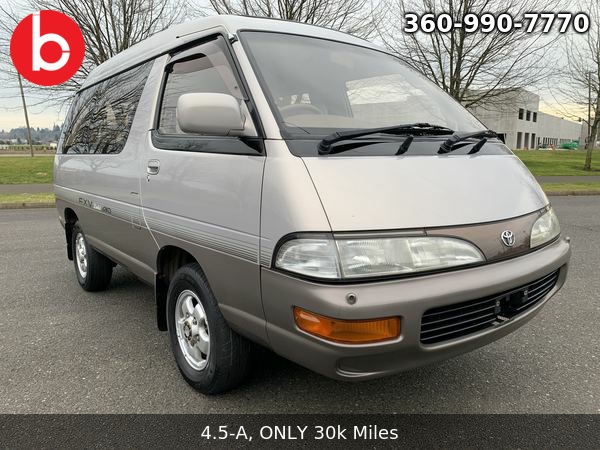 1994 Toyota LiteAce FXV Limited 4WD, AC PS PW PL SR Automatic
Mileage: 30,687
Engine: 3Y
Transmission: Automatic
Interior color: Tan/Grey
Exterior color: Silver/Brown
Fuel type: Gasoline
VIN: YR30-**28645
Doors: 4 Door
Stock number: 267-5
Reliability was Toyota's calling card back when this hauler was new. Our 1994 LiteAce FXV Limited personified this with an economical gasoline engine, capable 4WD, and well-designed interior. Situated in a segment between the Kei vans and full size options like the HiAce, the LiteAce might have the perfect interior and exterior dimensions. The exterior is in excellent condition with minimal blemishes, such as the normal scuffs associated with light use. Finished in an eye catching Gray Metallic the body has been well cared for and the exterior plastics/acrylics look good. The distinctive cab over design and automatic transmission make this easy to scoot around town in, and this van would also make a comfortable cross country trek without batting an eye.
The interior is in good condition finished in durable tan cloth and has been kept up incredibly for a vehicle intended to transport a bunch of rug rats. The tan colored seats are nicely bolstered, and are in above average shape for a 25 year old vehicle. Up front, a one touch driver window and adjustable steering column make the drive a fair bit more comfortable. Fog lamps are equipped making low visibility situations much safer. Oversize, powered, mirrors provide a good view of objects in the periphery. An adjustable column allows drivers short and tall to create a comfortable driving position. Power locks, power windows, and an OEM audio are all easily within arm's reach. The radio and speakers work well, and manage to catch a few errant US FM radio selections. The dash is in good shape, free of any cracks or discoloration. The rear seats have seemly endless configurations and the middle row can swivel 180 degrees (rear facing) which creates a limo like experience. In the third row there is a cut in the trim plastic from loading some cargo, but otherwise cargo wear is minimal. This model high roof spec is convenient, and the headliner is in good shape with few scuffs. The most desirable options were rear climate control which is equipped in this particular LiteAce, and is functioning. Extra grab handles line both the back and middle rows as well. The rear seats fold up and out of the way for increased cargo space if desired. Also the middle row windows slide open to provide some additional ventilation. The dual zone A/C function well, and the rear occupants have their own sets of vents and controls to keep themselves comfortable.
The 3Y-EU gas four-cylinder fires right up and idles smoothly, thanks in part to a brand new 12V battery. This 1998cc mill isn't the most powerful motor on the streets, but boy is it reliable! For those in colder climates, it warms up fast and feels low vibration. This specific four cylinder is known for its durability and with only 30K verified miles, is barely broken in. The automatic transmission shifts smoothly, and changes gears up and down without any clunks or hesitation. Freeway cruising is much more comfortable than in a kei van, with gearing that is much wider by comparison. The mid-range power is useful for city driving, and as soon as the van catches a little momentum, you're off to the races. The front-midship, 4WD layout provides adequate fuel economy with the small displacement of the motor and the suspension keeps the car nicely in line over larger road imperfections. The brakes are responsive, and this mid-size van stops better than you might expect. An oil change has been performed by one of our trained technicians, and ensures another 3000 miles of carefree motoring. Approach angles are fantastic, and the van has an abundance of ground clearance if you live off the beaten path. If off road use is your desired plan, the LiteAce has a selective transfer case for getting some needed traction. Also, this van's turning radius is better than average, with much of its maneuverability being owed to its tight wheelbase.
Maintenance History
** New Alternator
** New Front & Rear Wiper Blades
** Power Curtains don't function electronically
** Tires have plenty of thread left but are old and should be replaced .
UNDERSTANDING OF GRADING SYSTEM
Exterior Detail

5.0 - The exterior may have some very minor scratches/scrapes and dents. A very difficult grade to obtain, the unit will be in near perfect condition with very minor imperfections.

4.5 The car is a very high grade that you can be confident in. The car may have some very slight imperfections in the body work, but will not need major repair. Grade 4.5 and 4.0 are the top grades you could expect for a used car, and as such attract the top prices in the top 10%.

4.0 - The exterior may have some scratches/scrapes and dents. The car is in above average condition. No Crash history.

3.5 - The exterior has some noticeable large scratches/scrapes and/or large dents. They may require some minor panel beating work and/or painting. The car is in average condition taking in to consideration the year and Miles on the car.

3.0 - The exterior has many noticeable large scratches/scrapes, paint blemishes, and/or large dents. They will require panel beating work and/or painting.

2.0 - The car is in poor condition.


Interior Detail

A - New or near new condition.

B - Very clean interior.

C - The car has some, or all of the following conditions:
1) Tears, cigarette burn marks, worn patches, dashboard warping, and/or has some small tears.
2) The interior is dirty and needs to be cleaned.

D - The car has some, or all of the following conditions:
1) Several cigarette burn marks in the interior.
2) Dashboard has a major warp.
3) The interior is dirty and needs to be cleaned. Some dirty patches will remain after cleaning. Needs work.