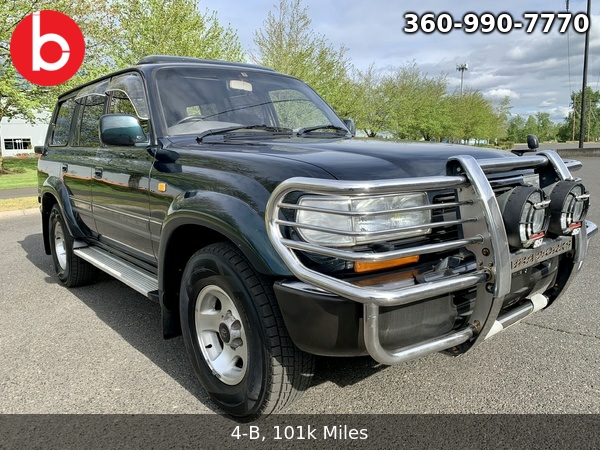 1994 Toyota Land Cruiser VX 4WD, 4.5L I-6, Triple Locker, Auto
Mileage: 101,514
Engine: 4.5L Inline 6 1FZ-FE
Transmission: Automatic
Interior color: Black/Grey
Exterior color: Emerald Green
Fuel type: Gasoline
VIN: FZJ80-**87980
Doors: 5 Door
Stock number: 283-5
The Toyota Land Cruiser represents all of the best attributes of the modern sports utility vehicle. The 80 series brought a long list of fresh upgrades, including new sheet metal, an unstoppable 4.5L I-6 power plant, and a more spacious and luxurious interior. This 1994 model, has plenty of room for the family, and a 4WD system capable enough to transport them over most treacherous on or off-road terrain. It has been kept in great condition. The paint itself shows really well for its age and is free of any major peeling or massive scuffs which is impressive for a vehicle of this size. The body has been kept all stock, Excluding the brush guard. While these came equipped with factory fog lights This SUV is equipped with larger aftermarket fog lights can be activated for foggier conditions. Foglights will however need to be wired up to function as they donot operate currently. The body matches the paint in condition with some typical door dings over it's 101K verified mile lifetime in Japan.
Climbing inside the cabin, you'll find even more factory options; including electronic controlled transmission, a factory cool box/ice maker, power mirrors, dual-zone climate control (for rear passengers), factory altimeter, automatic climate control, and optional third-row seating just to name a few. The seats are trimmed in a suede-like material that feels luxurious and looks incredible. All of the seats are in well above average condition for vehicles half it's age. It's both a testament to Toyota's build quality along with the higher level of care we see in Japan. The interior has been kept largely all original with simply the addition of an aftermarket radio which will need to be repalced anyways since it doesn't function.
When it comes to the drive train the Land Cruiser needs no introduction. Known worldwide for being utterly reliable the 4.5L gas-powered 1FZ-FE straight-six engine provides both usable power on the highway and enough torque to get you out of any off-road adventure you may encounter. Since this drivetrain was used in the US models parts availability will never be an issue. The automatic transmission shifts well, albeit with little urgency.
The rugged 4x4 system is eager to perform, making this hauler just as capable of making a run to Costco in the snow as it is fording a river. This one is a K295 truck which means it's fitted with the front and rear LSD to aid the four-wheel drive system. The Land Cruiser has been a staple in the SUV world since 1951 with no signs of slowing down.
UNDERSTANDING OF GRADING SYSTEM
Exterior

5.0 - The exterior may have some very minor scratches/scrapes and dents. A very difficult grade to obtain, the unit will be in near perfect condition with very minor imperfections.


4.5 The car is a very high grade that you can be confident in. The car may have some very slight imperfections in the body work, but will not need major repair. Grade 4.5 and 4.0 are the top grades you could expect for a used car, and as such attract the top prices in the top 10%.

4.0 - The exterior may have some scratches/scrapes and dents. The car is in above average condition. No Crash history.

3.5 - The exterior has some noticeable large scratches/scrapes and/or large dents. They may require some minor panel beating work and/or painting. The car is in average condition taking in to consideration the year and Miles on the car.

3.0 - The exterior has many noticeable large scratches/scrapes, paint blemishes, and/or large dents. They will require panel beating work and/or painting.

2.0 - The car is in poor condition.




Interior

A - New or near new condition.

B - Very clean interior.

C - The car has some, or all of the following conditions;
1) Tears, cigarette burn marks, worn patches, dashboard warping, and/or has some small tears.
2) The interior is dirty and needs to be cleaned.

D - The car has some, or all of the following conditions;
1) Several cigarette burn marks in the interior.
2) Dashboard has a major warp.
3) The interior is dirty and needs to be cleaned. Some dirty patches will remain after cleaning. Needs work.