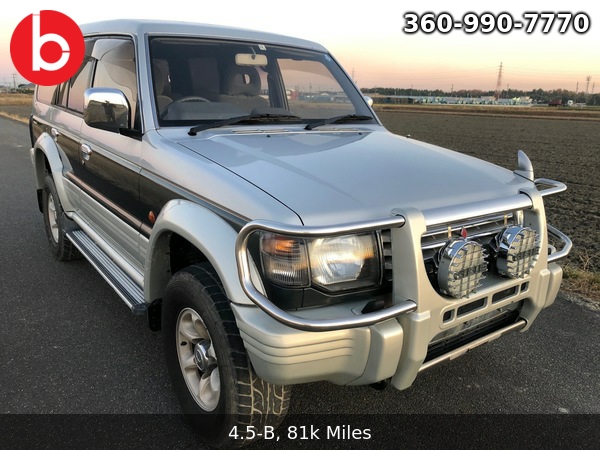 1994 Mitsubishi Pajero V6 Exceed 4WD, 2Hi-4Hi-4Lo, AC/Heat, Auto
Mileage: 81,417
Engine: 6G74 V6
Transmission: Automatic
Interior color: Grey
Exterior color: Silver / Green
Fuel type: Gasoline
VIN: V45-**04640
Doors: 5 Door
Stock number: 316-2
It's taken the US years to get caught up with Japan when it comes to capable, yet luxurious, SUVs. Really until the introduction of the Escalade SUVs were pretty bare-bones and bland. Japan, on the other hand, was at it right off the bat and this 94 Pajero Exceed is an exquisite example of this. The Pajero has earned a respected legacy in rally after winning the grueling Dakar a world record 12 times. All that while still being able to carry 7 in comfort. Its two-tone silver and green paint is accented by a pop of gold body line stripe which helps make it a real head-turner. The two-tone silver/green paint is in fantastic shape with a deep luster. Barring a few stone chips and some light surface scratches this rig looks as if it's never actually seen any time off the pavement. Upfront the giant Super Rally fogs lead the way in less than perfect weather and simply look awesome. Full factory rain guards help to cut down on wind buffeting and allow for ventilation during summer showers when you'd rather not run the A/C. This Pajero really looks the part of a proper off-roader, but luckily looks aren't all this one packs.
The interior is nicer than most of the luxury sedans that we sell. The third-row jump seats are a great addition for when you need to pile in a few extra people in a pinch. When the cargo space is more important they can be folded up and tucked neatly away providing copious amounts of space for your run to Costco. The Pajero has one key feature that puts it leaps and bounds ahead of its competition, and that's the suspension front seats. Similar to the designed used in big rigs, the seat has its own suspension system to double its ability to soak up rough roads. All of your power options of the time like power windows, mirrors, and locks which are functioning as expected. The fully digital climate system is a bit more sophisticated than the average and has loads of different settings. The A/C is cold for the front passengers and to make sure the rear is happy with their temps you have a full secondary system for them on the back of the center console. If you'd rather opt for fresh air there's a massive sunroof positioned a bit behind the driver. Hinting at its real off-road pedigree atop the dash is your altimeter, inclinometer, and digital compass. The aftermarket head unit does work, however you'll probably want to switch it out for something more current in due time.
The power comes from Mitsubishi's stalwart 6G74 which is a DOHC 3.5L V6 with only 81K verified miles. The gas setup in these were the same as what was used in the stateside Montero meaning maintenance is a breeze. You could literally take this into your local Mitsubishi dealer if you really wanted to. These make great power, factory rated at 186hp/226tq you've got more than enough on tap to get you up to speed on the highway or out of a rut. Paired up with the automatic makes it great around town as your newest daily. The Trans engages with ease and the shifts are pretty fluid considering it's an SUV and not a Skyline. The "Super Select" 4WD system was quite advanced for being a '94 featuring on the fly select-ability between 2WD, 4WD High, 4WD High + Locked Center Differential, and 4WD Low + Locked Center Differential. All of these options can be selected at speeds up to 62 MPH. This is the portion that really shows off the off-road capabilities that set them ahead of the likes of Toyota. The V6 idle is quite smooth and the cabin noise is kept to a minimum. We've done a routine semi-synthetic oil change as well to make sure you could drive this one back home same day. The steering and suspension all feel good, and this behemoth cruises over road imperfections without batting an eye. An affordable, stylish, and supremely luxurious option, without the price premium price tag of a similarly sized Toyota Hilux, the Pajero is a great option for a proper Japanese SUV.
UNDERSTANDING OF GRADING SYSTEM
Exterior Detail

5.0 - The exterior may have some very minor scratches/scrapes and dents. A very difficult grade to obtain, the unit will be in near perfect condition with very minor imperfections.

4.5 The car is a very high grade that you can be confident in. The car may have some very slight imperfections in the body work, but will not need major repair. Grade 4.5 and 4.0 are the top grades you could expect for a used car, and as such attract the top prices in the top 10%.

4.0 - The exterior may have some scratches/scrapes and dents. The car is in above average condition. No Crash history.

3.5 - The exterior has some noticeable large scratches/scrapes and/or large dents. They may require some minor panel beating work and/or painting. The car is in average condition taking in to consideration the year and Miles on the car.

3.0 - The exterior has many noticeable large scratches/scrapes, paint blemishes, and/or large dents. They will require panel beating work and/or painting.

2.0 - The car is in poor condition.


Interior Detail

A - New or near new condition.

B - Very clean interior.

C - The car has some, or all of the following conditions:
1) Tears, cigarette burn marks, worn patches, dashboard warping, and/or has some small tears.
2) The interior is dirty and needs to be cleaned.

D - The car has some, or all of the following conditions:
1) Several cigarette burn marks in the interior.
2) Dashboard has a major warp.
3) The interior is dirty and needs to be cleaned. Some dirty patches will remain after cleaning. Needs work.