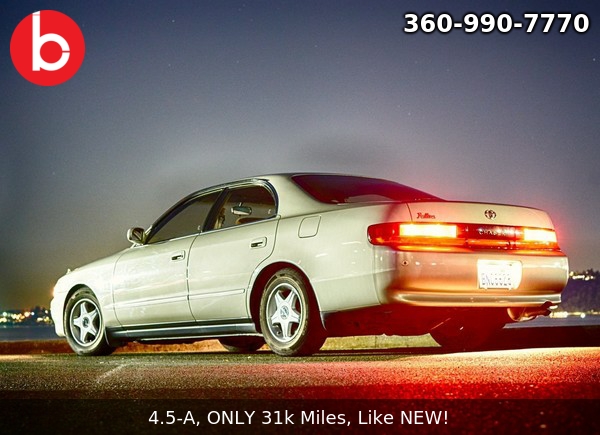 1993 Toyota Chaser Raffine Turbo Diesel RWD, 2L-TE 2.4L, Auto
Mileage: 31,200
Engine: 2L-TE Turbo Diesel
Transmission: Automatic
Interior color: Tan
Exterior color: Oyster Pearl
Fuel type: Diesel
VIN: LX90-**04604
Doors: 4 Door
Stock number: 195-6
Fast four-doors make sense for the enthusiast who still needs some practicality. Safe to say that driving a LX90 Chaser isn't much of a compromise, 1993 sedan is offered with only 31K verified miles. The body is in good shape, and a few minor dings and chips associated with normal use. This Chaser would be incredible to own due to its unmolested nature, with its above-average interior appointments, and elegant proportions accentuated by a set of Kouki tails, an OEM front lip, side skirts, and optional rear spats.
Inside the cabin, a number of power amenities and safety features are at hand. The driving position is such that the pilot has a clear view of their surroundings. The large windshield and low beltline promote visibility and a tilting and telescoping column ensures optimal comfort. ergonomics are decent, and the power switchgear and controls are at hand and clearly legible. Power folding mirrors, door locks, one-touch driver window are all standard on the model. The tan-colored dash is in good condition without any distortion or cracking to mention. The carpets, door cards, and headliner are in above average condition compared to our average import, and it's clear that this car was cared for in Japan. The seats also demonstrate this point, and no major imperfections can be found in either of the two rows. On the positive side, the front two occupants actually get a factory cup holder to share! The digital climate system functions as it should.
The chassis and powertrain utilized in the Chaser are simply sublime. The 2LT 2.4L Turbo Diesel sounds strong and provides plenty of horsepower. Benefitting from a fresh oil and filter service, as well as a new air filter, the straight-six pulls like a freight train. Startup is seamless with the turn of a key. A freshly installed 12V battery even the coldest snaps of winter won't phase this Toyota. Torque is sent rearward through a sturdy automatic transmission. Its shifts well, without hesitation or clunk to be noted. The power steering is lightly weighted but at the handling, limits provide adequate feedback. The OEM suspension will make easy work of large and small road imperfections. The brakes reel in the sedan from higher speeds without a sweat, all the while feeling confident.
A wolf in sheep's clothing, the LX90 is one of the most underappreciated imports. With sleek, understated styling this platform boasts enough power to out-accelerate most sports cars with room for the kids in the back. As a daily driver or weekend toy, this Chaser in a full-fledged Japanese Classic!
Services Done 2/18/2020

** All New Gaskets including Head Gasket
** Radiator Hot tanked and cleaned
UNDERSTANDING OF GRADING SYSTEM
Exterior Detail



4.5 The car is a very high grade that you can be confident in. The car may have some very slight imperfections in the body work, but will not need major repair. Grade 4.5 and 4.0 are the top grades you could expect for a used car, and as such attract the top prices in the top 10%.




Interior Detail

A - New or near new condition.