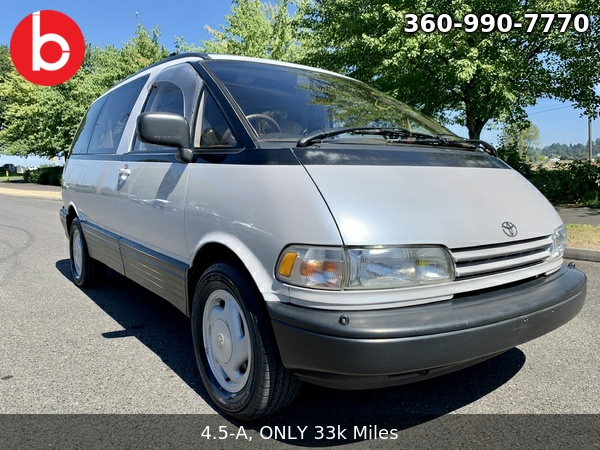 1992 Toyota Estima 4WD, AC PS PW PL SR Automatic, Like New!
Mileage: 33,676
Engine: 2TZ
Transmission: Automatic
Interior color: Brown/Tan
Exterior color: Pearl White / Grey
Fuel type: Gasoline
VIN: TCR21-**18460
Doors: 4 Door
Stock number: 268-5
This Toyota Estima / Previa is in excellent condition for the age. Featuring the desirable Full Time 4WD system Power is provided by a 2.4L 2TZ Gasoline Inline 4 Cylinder Engine and 4-speed automatic transmission. It's the same Drivetrain and engine as the US Market Toyota Previa 1990-1998 so parts and service can be done easily.

Runs, drives, and shifts smoothly. Interior is in excellent condition, exterior is great for the age with only a couple of very minor scuffs. Equipped with A/C & Heat, Aftermarket Radio & CD Player, Power Adjustable & Power Folding Mirrors, Power Windows, OEM Window Visors, Power Dual Sunroofs, Full Size Spare Wheel & Tire, Front & Rear Sensors like the new cars have and much more!

This would make an excellent daily driver, rural mail vehicle, or weekend off roader. The Estima does everything well. Perfectly at home in all weather conditions, on rugged back roads, or just cruising down the highway.
Known Defects & Maintenance History
** Fresh Oil Change
** New Alternator & Belts
** Brake Flush
** New Battery
** Recharged AC with R134
** New Toyo All Season Tires
** Clear Coat fading on roof
UNDERSTANDING OF GRADING SYSTEM
Exterior Detail

5.0 - The exterior may have some very minor scratches/scrapes and dents. A very difficult grade to obtain, the unit will be in near perfect condition with very minor imperfections.

4.5 The car is a very high grade that you can be confident in. The car may have some very slight imperfections in the body work, but will not need major repair. Grade 4.5 and 4.0 are the top grades you could expect for a used car, and as such attract the top prices in the top 10%.

4.0 - The exterior may have some scratches/scrapes and dents. The car is in above average condition. No Crash history.

3.5 - The exterior has some noticeable large scratches/scrapes and/or large dents. They may require some minor panel beating work and/or painting. The car is in average condition taking in to consideration the year and Miles on the car.

3.0 - The exterior has many noticeable large scratches/scrapes, paint blemishes, and/or large dents. They will require panel beating work and/or painting.

2.0 - The car is in poor condition.


Interior Detail

A - New or near new condition.

B - Very clean interior.

C - The car has some, or all of the following conditions:
1) Tears, cigarette burn marks, worn patches, dashboard warping, and/or has some small tears.
2) The interior is dirty and needs to be cleaned.

D - The car has some, or all of the following conditions:
1) Several cigarette burn marks in the interior.
2) Dashboard has a major warp.
3) The interior is dirty and needs to be cleaned. Some dirty patches will remain after cleaning. Needs work