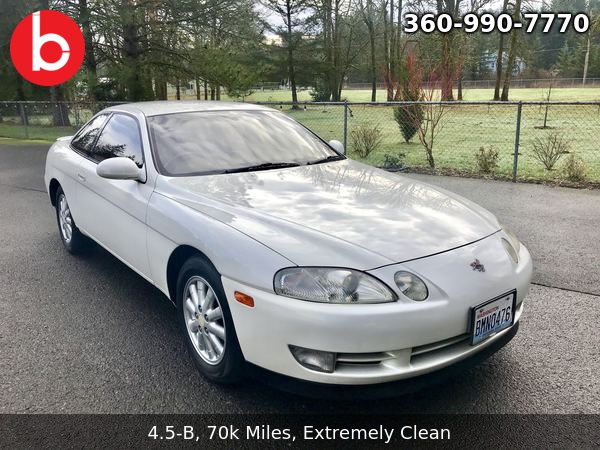 1991 Toyota Soarer 2.5L Twin Turbo RWD, Auto, JZZ30, 1JZ-GTE
Mileage: 70,436
Engine: 1JZ-GTR Twin Turbo
Transmission: Automatic
Interior color: Tan
Exterior color: Pearl White
Fuel type: Gasoline
VIN: JZZ30-0014838
Doors: 2 Door
Stock number: 188-6
1991 Toyota Soarer JZZ30

This 1991 Toyota Soarer has been tastefully modified and features the factory twin-turbo 1JZ-GTE which was never offered in the U.S. equivalent model. The pearl white paint shines nicely and has no severe blemishes. The body has a few minor imperfections but overall presents well for a vehicle this age.
The interior has a few changes such as the turbo timer. Overall it's in great condition with the only flaw being some mark on the dash. The seats and door panels have only minor wear and no major rips or tears. The dash is in great shape with no cracks or bubbles.
The 1JZ-GTE engine starts right away, idles correctly, and accelerates without hesitation. The Auto transmission shifts correctly. The A/C system is still present and blows cold.



SPECS



TEMS (Toyota Electronic Modulated Suspension) is a shock absorber that is electronically controlled (Continuous Damping Control) based on multiple factors, and was built and exclusively used by Toyota for selected products during the 1980s and 1990s (first introduced on the Toyota Soarer in 1983)


Ref No
188-6
Location
Vancouver, WA
Chassis #
JZZ30-**14838
Version/Class
2.5 GT TWIN TURBO
Model Code
E-JZZ30
Mileage
70,436
Engine Size
2,490cc
Engine Code
1JZ
Drive
2 Wheel Drive
Steering
Right
Transmiss.
Automatic
Ext. Color
Pearl White
Registration
Year/month
1991
Fuel
Petrol
Manufacture
Year/month
1991
Seats
5
Doors
2

Dimension
(L×W×H)
4.86×1.79×1.35 m
M3
11.744
Weight
1,570 kg
Max Loading Capacity
-
Auction Grade
4.5

PROS:

** New KYB Rear Struts **
** New NGK Spark Plugs **
** New Air Filter **
** New Bridgestone Tires **
** Fresh Fluids **
** 4 Wheel Balancing & Alignment **
** New Wiper Blades Front & Back**
** New HID Headlight Bulbs Installed **

CONS:

** Cigarette Burn on driver door card **
** Gauge Cluster Flickers **
(Replacement Cluster is Included with the car)




Exterior Condition Rating Chart

5.0 - Brand NEW
4.5 - Excellent
4.0 - Very Good
3.5 - Good
3.0 - Fair

Interior Condition Rating Chart

A - Brand NEW
B - Very Good
C - Fair